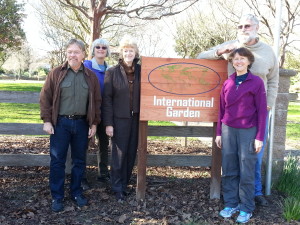 Who We Are
The Markham Regional Arboretum Society (MRAS) is a citizen-run, non-profit 501-c3 corporation.  MRAS works in close cooperation with the City of Concord Public Works department; the City is the actual owner of the park and their superb effort is what keeps Markham Nature Park open.  MRAS is governed by a Board of Directors and is operated almost entirely by volunteers.  MRAS raises money, creates plans, and oversees the development and maintenance of the park.
Along with donations and grants, funds to develop the park come from the MRAS Nursery plant sales. Volunteers grow plants from seeds and cuttings. These are offered to the public for sale on select Saturdays throughout the year.
Mission
Our mission is to protect and enhance the park's plants for the benefit of all visitors.  
Our goals are:  
Maintaining and developing a diverse living collection of plants especially suited to our local environment;


Providing a botanically rich and serene space for all visitors to be proud of;

Promoting public understanding and appreciation of plants and the natural world;

Raising awareness of how people impact our planet and what anyone can do to make it healthier for everyone.