Fiscal Year July 2015 to June 2016
Markham Regional Arboretum Society celebrated its 35th anniversary this year. This is the story of those 35 years: engaged visitors enjoying the nature in the park made possible by dedicated volunteers.
"Never doubt that a small group of thoughtful, committed citizens can change the world; indeed, it's the only thing that ever has". — Margaret Mead
Highlights
The Society was honored by Sustainable Contra Costa with an award for Leadership in Sustainable Resource Management.
The website was completely redesigned and upgraded with new content & features and is desk-top and mobile-friendly. The website infrastructure was vastly improved as well, having migrated to up-to-date software on a cloud platform with industry-standard security.
The park was lauded by two large articles in the Alamo, Danville and Lafayette Today local papers.
The board completely reviewed, updated and received membership approval for the bylaws.
The logo for the society was revamped and rolled out.
Nursery & Park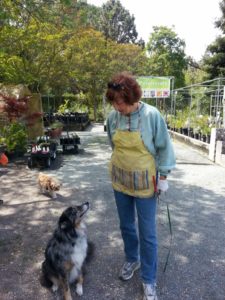 Continued improving signage in the International Garden to encourage people to identify and use plants in their home gardens planted 20 new specimens in the Arboretum and International Garden.
Engaged Patrice Hanlon and Susan Handjian to design and install the Mediterranean section of the International Garden Area with plans to complete an installation in 2016-2017.  This is the final section of the International Garden to be developed.
Offered 26 community garden plots, for a duration now approaching 2 decades,  at low cost.
Hosted our honey-bee "farm" for the second year in a row.  Tended by a professional keeper, the bees are proving so important that they even traveled to the Central Valley to help pollinate the almond crop.
Classes & Event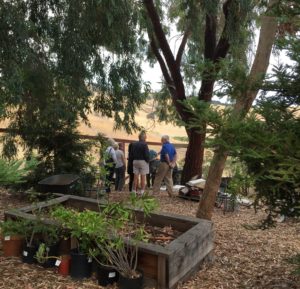 For the ninth year in a row, participated in Bringing Back the Natives as the event's only central Costa Costa location to purchase California native plants.
Honored our volunteers with a December Holiday potluck and a summer field trip to a local permaculture farm and Ruth Bancroft Garden.
Conducted a number of classes – many for free – on a variety of topics, including:

Exceptional Drought-Tolerant Plants
Plants for Pocket Meadows
Beginning Birding
CalHORT seed-packaging
Irrigation Conversion workshops
Wildcrafting: String-making with Dogbane, a CA Native Plant
Guided garden strolls
Community & Outreach
Farewell luncheon for Concord Garden Club
Participated in several free-to-the-public efforts with a staffed booth, presentations, or donations for:

The Water Expo portion of the Vintage Market held in Martinez in August.
Contra Costa Agriculture's holiday fund-raiser for the Food Bank.
Concord High School's Band Booster spring fundraiser.
Rossmoor's first Earth Day extravaganza in April.
Dana Estates Neighborhood Association annual Night Out in June, an event that includes many public agencies such as Contra Costa Water District, Concord Police,and local vendors.

Provided programs for RES Success, adult education, school tours and hosted 2 more Eagle Scout projects:

Julian Rike, who removed invasive species in Galindo Creek which flows through the park.  Supervised by Fred, our park's beloved maintenance chief, Julian also restored habitat by planting an array of natives — many donated by the Markham.
Nicholas Charles Lambert, of Mt. Diablo Silverado Council, Muir District Troop 1994, who designed, created and installed a beautiful entrance sign to the International Garden.

Appeared in interviews posted on PBS and Channel 7 ABC News on "Water use during drought".
Held a reception and tour for the last meeting of the Concord Garden Club. After over 6 decades of service, the Club dissolved their organization due to the advanced age of its members and the difficulty recruiting fresh members.  Among their many accomplishments, the Club both founded the Markham Regional Arboretum Society.
Hosted a reception for leaders in the City of Concord to acquaint them with our work.