Event Date/Time
Date(s) - 10/21/2017
Time - 9:00 am - 1:00 pm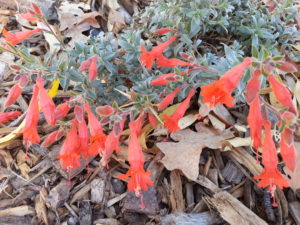 Fall is the best time to do your California gardening, so get your native and naturally drought-tolerant plants now!
This sale has several special attractions:
* The fabulous Kelly Marshall will be speaking for FREE from 10:00 – 11:00 a.m. on her top 10 native plants.
* Stan "Iris Man" Morgan will have select offerings of bare root irises for purchase.
* Master Gardeners will be hosting a "what's your (garden) problem" table.
* Highly-sought after plants such as those featured below.
Plus, members will receive a (nice) surprise benefit!
Featured Plants
Arctostaphylos
(Manzanita)
Ceanothus
(California wild lilac)
Eriogonum
(Buckwheat)
Other flowering, pollinator, habitat plants
A. edmundsii 'Big Sur'

C. maritimus 'Pt. Sierra'

Eriogonum arborescens

Dudleyas (several species)

A. bakeri 'Louis Edmunds'

C. 'Ray Hartman'

Eriogonum giganteum

Erigeron glaucus 'Wayne Roberts'

A. 'Pacific Mist'

C. 'Wheeler Canyon'

Eriogonum nudum

Mimulus (many colors)

A. morroensis

Eriogonum rubescens

Muhlenbergia rigens

A. pajaroensis 'Warren Roberts

Verbena lilacina
(including 'de la Mina' and 'Paseo Rancho' cultivars)

Plus many, many more: Heuchera micrantha, Solidago confinis, Fremontodendron californicum, Achillea millifolium, Monardella villosa, Mahonia nevii, Fragula rubra, Asclepias speciosa, Dendromecon hartfordii, Festuca californica, Lupinus sp., Penstemon heterophyllus, etc.
Whew!
(Photo credits: Arti Kirch, SFGate, Suncrest Nurseries)
Location
Markham Park
Event Category