Event Date/Time
Date(s) - 06/24/2017
Time - 9:30 am - 12:00 pm
Markham has a new herb garden in the Mediterranean section of the International Garden and to celebrate all things herbal join Patrice Hanlon for a morning exploring the many uses of herbs and flowers.
Summer is the best time for harvesting creating products for yourself or friends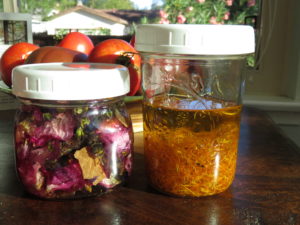 In this class you will learn how to make infused oils, herbal salt and salves, and aromatherapy sprays.
Participant will receive an informative handout, including some of Patrice's favorite herbal recipes and resources for quality herbal ingredients, bottles, and supplies.
Prepare for the holiday gift-giving season and get inspired to be crafty and creative with herbs!
Saturday, June 24, 9:30-12pm
Materials Fee:
Members $15
Non-Members $20
Bookings
Bookings are closed for this event.
Click
My Bookings
to check bookings.
Location
Markham Arboretum
Event Category