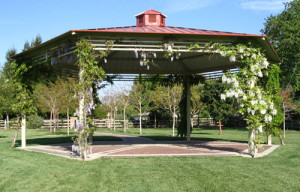 To rent the arbor, visit their website or contact City of Concord at 925-671-3382.
The Bud Hansen Wisteria Arbor is located near the main entrance to the International Garden. Hexagonal in shape, this vine-covered arbor provides shade for a variety of community events—from lectures on gardening to musical concerts. Opened in July, 2002, the Bud Hansen Wisteria Arbor is a project sponsored by the Rotary Club of Concord/Diablo in partnership with the City of Concord and Markham Regional Arboretum Society. Construction of the arbor was funded through major donors, the sale of engraved bricks, and direct donations.
Bud exemplified the Rotary spirit of "service above self." He was instrumental in the construction of Heritage Center and Plaza Towers in downtown Concord, providing approximately 300 units of senior and disabled housing. In addition, Bud worked to convert a downtown adult theater into a community center for the First Presbyterian Church.
A longtime member and president of the Concord Historical Society, Bud did much to preserve the history of the Concord area. Wisteria became connected to the Hansen family name when Bud's father, also active in the contracting business, built a wisteria pergola around Todos Santos Plaza. It was the world's largest pergola outside of China, and every spring its wisteria blossoms attracted visitors from afar.
"Bud Hansen was a life-long resident of Concord. He was a builder, active in the community, his church, and Rotary. His father, John Hansen, built the original wisteria arbor in Todos Santos Plaza, so it is appropriate to establish an arbor in Bud's memory in the International Garden of Markham Arboretum."
–Mike Pastrick, Former Mayor, City of Concord
"The Wisteria Arbor honoring Bud Hansen will be the crown jewel at the newly completed International Garden in Markham Nature Park. This project embodies the spirit of Bud Hansen and all that he and his family have contributed to the quality of life in Concord."
–Steve Weir, Former Mayor, City of Concord, and Former Board Member of Markham Regional Arboretum Society
"Bud Hansen contributed greatly to the quality of life in the City of Concord. This memorial arbor will be a wonderful addition to the Markham Nature Park and a fitting remembrance of his achievements in making this a better community."
–Laura Hoffmeister, Council Member, Rotarian
"Bud Hansen was always available to give time, talents and support to the community of Concord. He built many buildings in Concord, including the Heritage Towers for senior citizens. I am proud to support Bud Hansen Memorial Arbor in Concord's Markham Park."
–Mark Desaulnier, County Supervisor