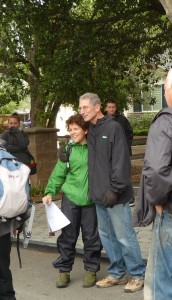 The Markham Regional Arboretum Society always welcomes new volunteers.
Volunteering for the Society is fun and deeply satisfying. No prior experience is required and we provide the necessary training. Time commitments are flexible and we can find the perfect spot for you.  Oh, and we do cool day trips to unusual places at least once a year to provide enrichment — something our volunteers LOVE 🙂
Check out the volunteer opportunities below, then complete our volunteer form or contact us if you want to help.  
Plant propagation: Learn how to grow plants from seed and cuttings every Tuesday (excepting weather extremes) from 9am – noon. Instruction is provided on a wide variety of climate-appropriate perennials, shrubs and edibles are grown to raise money for the Society to use in developing the park.
Plant sale staffing: Help at any of our approximately half-dozen yearly weekend plant sales.  You can assist in set up pre-sale, or during the sale writing receipts, staffing the register, answering questions, or assisting customers to their cars.
Special projects:  Construct and / or repair our critical infrastructure, such as our greenhouses, irrigation, nursery beds, and more.
Serve on the board:  Add your valuable skills to the decision-making body, including planning, finance, management, organization…you don't know how talented you are!
Ongoing efforts, including:

Social media management and content development
Sales and Marketing
International Garden caretakers
For the nitty gritty, feel free to read our Volunteer Manual.