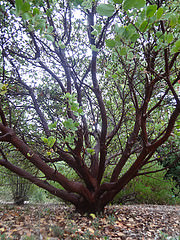 Markham Tree Walk:
A Self-Guided Tour of Discovery
The Markham Tree Walk will introduce you to forty-five different species of trees in the Markham Nature Park. Many of these trees are native to California. You will also see trees from the other parts of the world that share the same Mediterranean climate as that in Concord – Australia, South Africa, South America and Europe. Many of these trees are drought tolerant and thrive in Northern California.
Although the Tree Walk covers relatively flat terrain, wear comfortable walking shoes. There is no formal path to follow, but the map gives the location and identity of each tree, as well as a brief description. The map is 11 x 17 inches and can be downloaded to your home computer to print out. Printed maps are available in the park at the far end of the parking lot.
The Tree Walk is especially lovely on a hot day—as hundreds of trees shelter you in dappled shade. So take your time and enjoy this jewel in our community.
No time to visit?  Then enjoy this quick video.